animal advent
ala ed emberley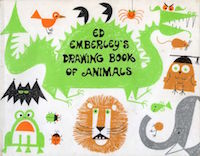 Buy It On Amazon
—
It's really good!
I grew up with
Ed Emberley's Drawing Book of Animals
. it's a terrific book that shows kids and grownups how to construct animals step by step out of letters and simple shapes they already know how to draw. (Years later, I realized that the visual style I developed for my "virtual toys" employs the same core ideas, drawing things with rectangles, triangles, circles, and simple curves instead of pre-canned graphics. This book must have been a huge influence!)
This year, I have made an Online Advent Calendar with 25 "Animal Puppets". For every day in December up until Christmas, a new puppet is unlocked! Each shows off its construction from shapes and symbols and each is a little puppet you can operate with the mouse movement and button. (Just like that bird up there will "shake a tailfather" if you pass the mouse over it.)
The animal puppets start simple but get complex, so come back every day for a new virtual toy! And if you would like to learn about how I made these and how you can make your own toys, check out the GitHub project page. You can also see the Director's Commentary I made on my development blog.
If you'd like to learn how to draw these animals, and many more, buy the book! It's terrific for kids and grownups to learn on their own or together.
Happy Holidays!
Kirk <kirk@kirk.is>